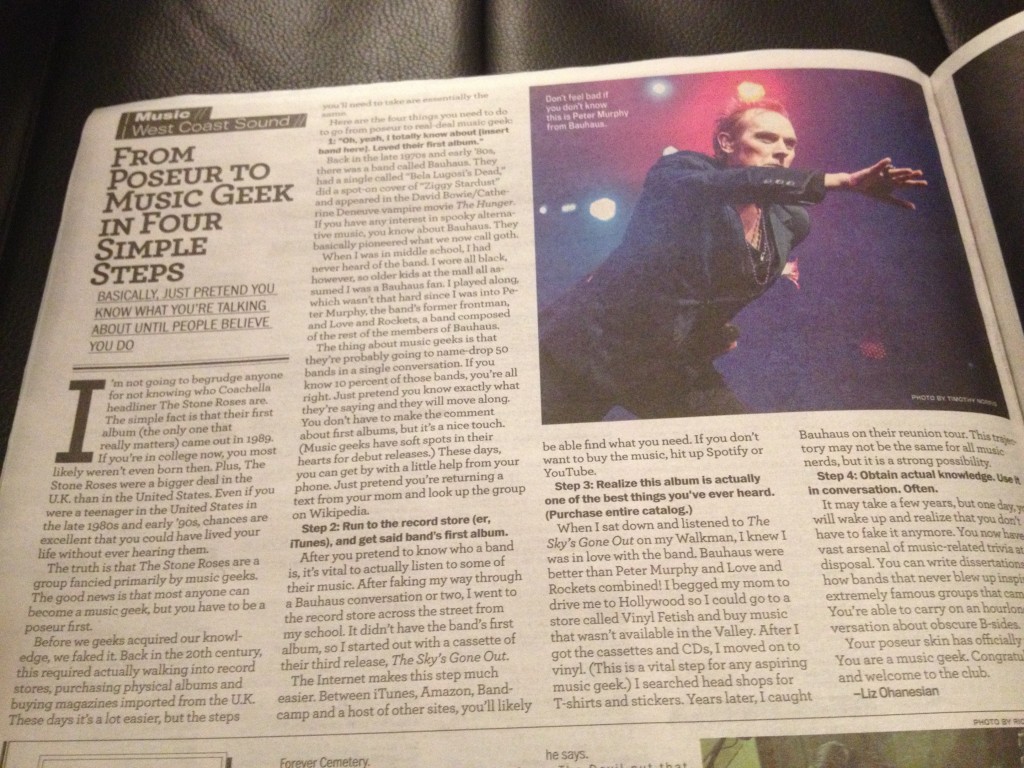 Remember that poseur-to-music geek outburst I had on Twitter that turned into an L.A. Weekly blog post? The story landed in this week's print edition of the paper. Go pick up a copy if you're in L.A. Also, L.A. Weekly's sister paper, O.C. Weekly ran it on their music blog this morning.
Work is picking up in ways I didn't imagine. I landed six new assignments this week. That was a happy surprise. Of course, this all happened the week we launched Los Animales, so things have been a little hectic. Fortunately (and I'm saying this mostly for the benefit of an editors who may stumble across this post), my time management skills are amazing.
I put aside some essays I've been writing for self-publication. Those will be coming out, it's just that I have to prioritize right now and focus on the paid gigs.  I have to limit my time on Facebook and Twitter, even though that means my Klout score is dropping. That's alright. I have work and it's getting done.
Check out my published work from this week:
"Jon Glaser Prepares for Series Finale of Adult Swim's Delocated With Live Event at Largo" (Cult Stars, L.A. Weekly)
This afternoon, I'll be at Gallifrey One. If you're there, say hi. If not, no worries. This will likely be the only day I go to Gallifrey One, as I have three assignments due on Monday.