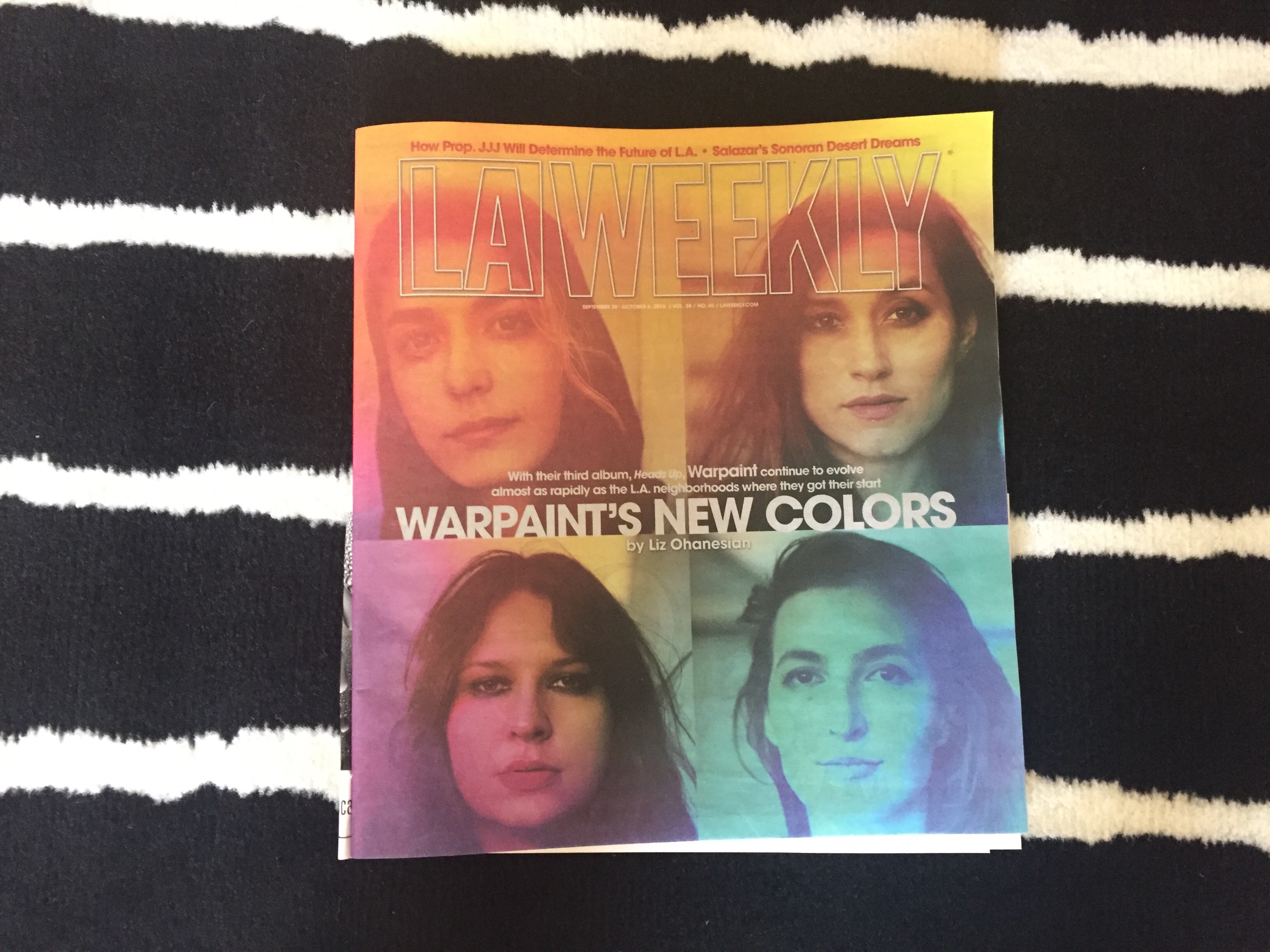 On Thursday, the new issue of L.A. Weekly hit the streets with Warpaint on the cover. I wrote the story. Almost five years had passed since my last cover story for the Weekly, so this was an exciting moment.
"How Warpaint Got Stronger Together by Spending Some Time Apart"
But, that's not all.
Thanks to a gig I have for the KCET Cinema Series, I was able to see Snowden earlier in September. I really enjoyed the movie (go see it when you have the chance). I loved the use of music in the movie, even if it did leave me feeling super paranoid when I left the theater. That said, when I heard that Boys Noize, who was involved with several components of the soundtrack, was available for interviews, I knew I had to get one. Fortunately, Playboy said yes to this. We talked about Snowden, government surveillance, the drama surrounding London nightclub Fabric and gentrification in Berlin.
"Boys Noize Talks Surveillance, Berlin and Contributing to the 'Snowden' Soundtrack"
Last weekend, I headed to a posh hotel near the Beverly Center for Los Angeles Podcast Festival. What's great about this event is that it's not just about the big names in the podcast world. Sure, you had the chance to see Welcome to Night Vale and lots of other shows live, but there are also how-to panels and a Podcast Lab, where you can set up your gear and record. Lots of the guests stop by this room, so it's a great chance for smaller podcasters to land interviews. It's also filled with lots of fun people, some of whom I had the chance to interview for this story. This was a quick turnaround story, as I did the interviews on Saturday and had to file by Sunday mid-afternoon. Since I basically spent my Saturday night and Sunday morning working on this (thank goodness for coffee), I urge you to read it.
"Step Inside the Podcast Lab, Where the Littler Guys Grab the Mic"
Last week, I was asked to write a response to one of those weird, stereotypical articles about people from a another city moving to LA.
"Debunking Yet Another Tone Deaf Article On Los Angeles"
Time to get back to writing. For updates throughout the week, you can follow me on Twitter, Facebook and/or Instagram. For tips and other inquiries, email me at lizohanesian@yahoo.com.