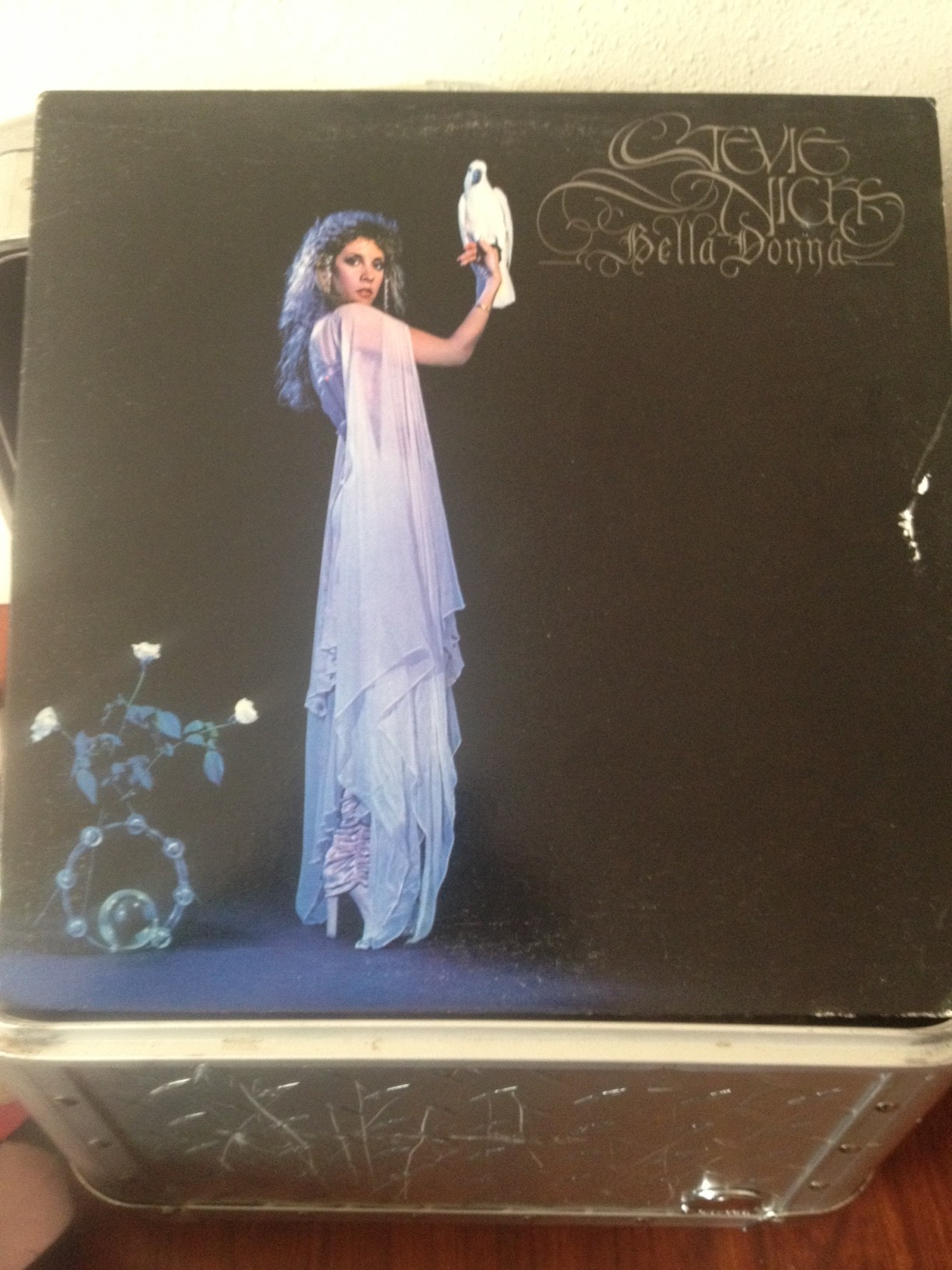 I don't quite remember how it started, but, soon a string of half-jokes bounced around at last call turned into a bona fide idea. We were going to do a Stevie Nicks night at the goth club. A few weeks of promoting commence. I watch the RSVPs, unsure of whether we just had the best or worst idea ever.
This month, Shadowplay fell on December 28. That's the Saturday between Christmas and New Year's Eve, a Saturday which many in the club world have come to dread. Christmas in L.A. is typically pretty slow. There are a lot of people who aren't from here. They go home, only to return just in time for New Year's Eve. That final party night of the year is huge. It's also, typically, expensive. That said, people will stay in the weekend prior to save up funds and energy. Still, we managed to get a pretty good amount of people into the club, enough to keep the dance floor full for the bulk of the night. Yay!

I brought my copy of The Wild Heart, which my friend Roo gave me for my birthday years ago when we were on a "Stand Back" kick, as well as a copy of Bella Donna that came from my uncle's collection. A few months ago, he gave me his old vinyl collection, two crates worth of late 1970s and early 1980s rock and pop records. Diana, thankfully, had the Fleetwood Mac selections covered, since I misfiled the copy of Rumors that my uncle gave me. It is somewhere in those stacks.
Diana got the crowd going with "Rhiannon." Not long after that, I followed up This Mortal Coil's double Modern English cover, "16 Days/Gathering Dust," with "Edge of Seventeen." It looked like just about everyone in the club was on that dance floor. A good friend of mine with spinning around with her shawl. I was dancing with my shawl in the booth. It was ridiculous and awesome and I'm incredibly grateful to everyone who joined us on Saturday night.
We'll have details on the next Shadowplay party at the end of the week. The one thing that we did announce is that we're adding a fourth resident DJ. That's our friend Grimm Beatz, from the band Bell Tower Bats. We are really excited about this.
Here's my set list from Saturday night. Enjoy.
Set One:
This Mortal Coil– 16 Days/Gathering Dust
Stevie Nicks– Edge of Seventeen
Siouxsie and the Banshees– Monitor
Ofra Haza– Im nin'alu
Bauhaus– Stigmata Martyr
Einsturzende Neubauten– Yu Gung
Virgin Prunes– Pagan Lovesong
Danielle Dax– Big Hollow Man
Stevie Nicks– Stand Back
Sisters of Mercy– Lucretia
Set Two: 
The Cult– She Sells Sanctuary
Nina Hagen– Born in Xixax
Lene Lovich– Lucky Number
Legendary Pink Dots– Curious Guy
The Cure– M
Strawberry Switchblade– Since Yesterday
Psychic TV– Just Like Arcadia
Visage– In the Year 2525
Human League– Seconds