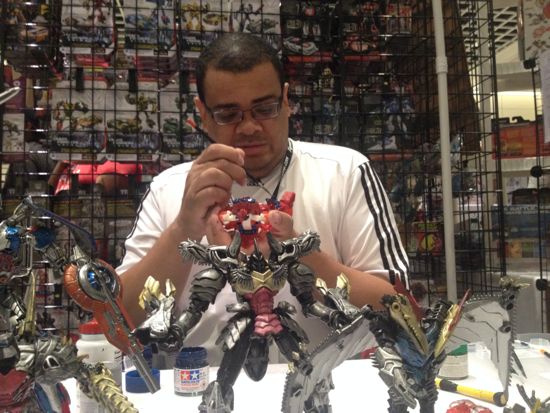 In first or second grade, I was totally into Michael Jackson. Thriller had just come out and it's not an exaggeration to say that it was the biggest album of the day. That Christmas, I got my own Michael Jackson doll. I treasured him, but not enough to keep track of the single sequined-like glove. I still have the doll, but he is incomplete. That's why I find Transformers collectingso interesting. Those toys had a lot of small parts and there's little chance that their former six-year-old owners kept them intact. That makes collecting those toys of the '80s tough for adults.
Last weekend, I went to BotCon. That's an annual Transformers convention that moves from location to location across the country. While I was there, I asked a lot of vendors about those collectibles. I wanted to know what people were trying to find and what was considered rare. You can read about that in my story for Topless Robot.
Meanwhile, I met some creative Transformers fans at the convention. One customizes toys for fans who can't find the look they want. Two others started their own toy company that makes accessories/tiny friends that fit with a number of retro toys. I wrote about them in my latest column for L.A. Weekly.
***
A few months ago, I hopped into a towncar with Afrojack and interviewed him while en route from Point A to Point B. Fortunately, it was a Saturday evening in Hollywood. Lousy traffic makes for better interviews! The story is now ready to read as part of Paper's special issue on high-profile DJ/producers.
***
On the DJ front, tomorrow will be my last night at Shadowplay, the goth club that my pals and I launched last year. I won't be playing, or even going to, clubs often for at least the next few months as I have to focus on some big writing projects. If you would like to join us,  go to the Grand Star (next to the Bruce Lee statue in Chinatown) Saturday night at 10 p.m. This is a 21+ event and the cover is $5 all night.