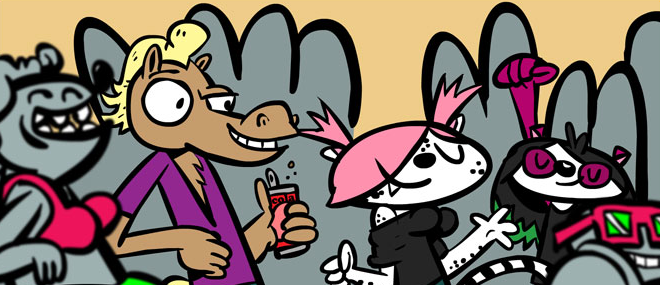 We have new pages of Los Animales up this week. The above image is just a taste of what Jeaux J. and I have in store for you on the webcomic front. Find out what happens when Manda and Dani encounter a club creep at Nadarave. 
I've been spending a lot of time prepping for Anime Expo, which is next week, and San Diego Comic-Con right now. Still, I had a few other stories published in the past few days. Check them out below the jump.

"Artist Misha on the Balance Between Pop Culture Tributes and Original Characters in Her Art" (L.A. Weekly, "Cult Stars")
In my L.A. Weekly column, "Cult Stars," I talked to Misha, who was the featured artist at Agit Gallery last night. In it we talked about Misha's original Kowai Kawaii Yokai characters and the pop culture tribute art shows in which she frequently contributes.
"Boys Noize Surprise Show at Complex Last Night, Reviewed" (L.A. Weekly)
Sometimes, something is so cool that you have to jump on it. I did that when I found out about this very intimate Boys Noize gig on Tuesday. It was a long night, I got home at 2:30 a.m. and turned in the story by 9, but totally worth it. Boys Noize played a great set and it was great to see how excited the fans were about this event.
"It Came from Netflix: Heathers" (Geek Exchange)
Heathers is one of my favorite movies. I really do have the bulk of it memorized. However, I watched it mostly as an angst-y teen. A few weeks ago, Adult Liz revisited the cult classic. Check out what I think about it now in Geek Exchange.
Shadowplay is Saturday night!
In other news, Larry, Diana and I are busy preparing for the Saturday night debut of our goth party, Shadowplay. This is a 21+ event at the Grand Star in Chinatown. If you RSVP, you can get in for free before 10 p.m. Otherwise, the cover is $8. We hope you'll join us.