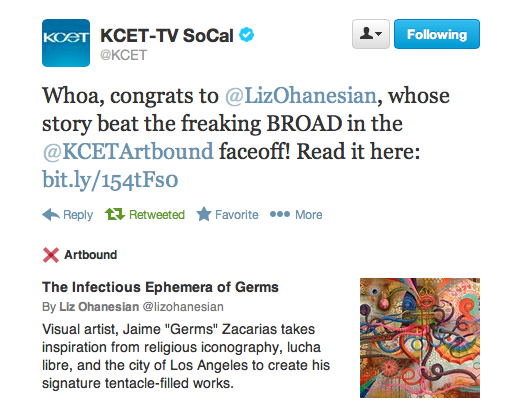 How cool is this? I'm pretty excited. "The Infectious Ephemera of Germs" was my first story for KCET Artbound. Thanks to everyone who voted.
I wrote another one since then. "Reinventing the Wheel with Efren Delgadillo, Jr." went live last week. It's about the artist behind the massive wheel at the center of a recent production of Prometheus Bound.
Here are two more stories you might have missed.
"The Purge Producer Jason Blum Explains How He Turned the Film Into a Haunted House"
Blumhouse of Horrors is bringing another scary adventure to Los Angeles this Halloween season. For last week's installment of my L.A. Weekly column, "Cult Stars," I went behind the scenes of The Purge: Fear the Night.
"Pete Tong Is a Very Big Deal in EDM, and Now He's in L.A."
Pete Tong just set up his homebase in L.A. I got to talk to him about the move, as well as his thoughts on the U.S. dance music scene, for L.A. Weekly.