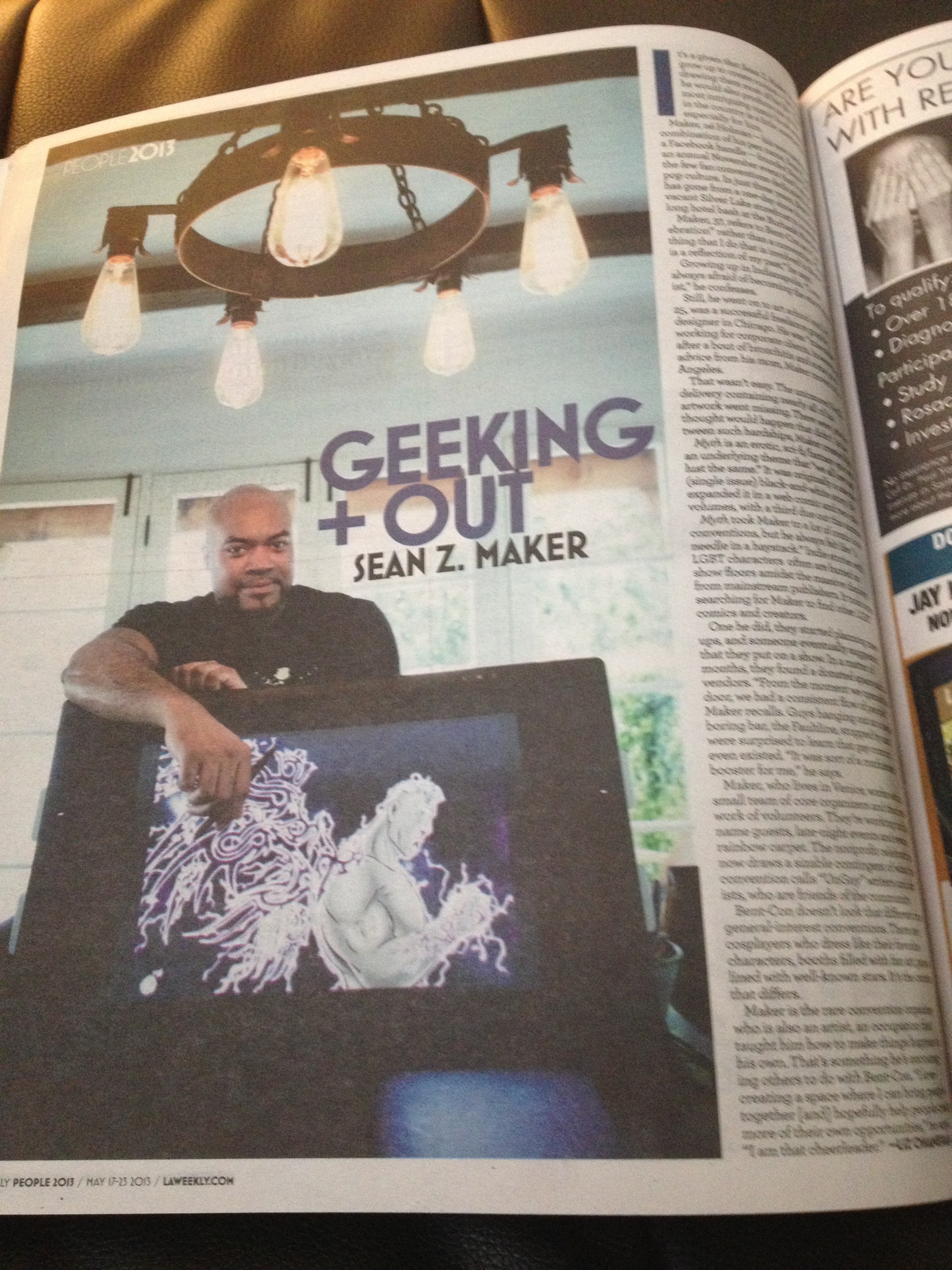 L.A. Weekly's People Issue is out now. It's one of the biggest issues of the year and I'm honored to have contributed to it again. This year, I wrote about Sean Z. Maker. He's a comic book creator who also founded Bent-Con, an annual LGBT-centric pop culture fan convention. It's a great convention. If you're in L.A., you can probably still find copies at your local newsstand/gas station/7-11/etc. Otherwise, check out the story online.
"Sean Z. Maker: Founder of Bent-Con, the LBGT Pop Culture Convention"
Speaking of conventions, last weekend, I headed out to Woodland Hills for BlasterCon. This is a new sci-fi and fantasy convention that emphasizes works from the 1970s and 1980s. It was a very small event, but also an incredibly fun and interesting one. You can read about it my L.A. Weekly column, Cult Stars.
"Retro Sci Fiction/Fantasy Convention BlasterCON Debuts with Small Crowd and Big Ideas"
IAMX played L.A. last week. Prior to the show, I interviewed Chris Corner for L.A. Weekly about his wildly successful crowdfunding campaign.
"Chris Corner Got Way, Way More Crowd-Funding Money Than He Sought"
Black Veil Brides has come a long way in the past few years. This week, I talked to Andy Biersack about the band's past and how that's affecting their present career. Check out the story in PureVolume.
"Q&A: Andy Biersack of Black Veil Brides—'We Come From the Dream of Hollywood'"
As a kid in the San Fernando Valley, I loved Earth Girls Are Easy. Frankly, I think it's the best Valley-centric sci-fi comedy around. Yes, better than Encino Man. Recently, though, I learned that I like Earth Girls Are Easy more now than I did in the late 1980s. I wrote about that for Geek Exchange.
"It Came from Netflix: Earth Girls Are Easy"
Jeaux J. and I just finished the second week of Los Animales: Nadarave. Our readership is growing and we're pretty happy about that. Right now, I'm finishing up Chapter 3, which will probably start running sometime around San Diego Comic-Con. In the meantime, read the first 10 pages (11, if you count the cover) of Nadarave.
Things are pretty exciting on the DJ front as well. Last weekend, I played at Deadcadence, a monthly party held at Roberto's in Chinatown. The sets went over really well. You can check out what I played and find out about the bands on the bill on my blog, Beatique.
"Set List: Deadcadence 5/11/13"
Not long ago, we did a goth party at Underground called Shadowplay. The response was overwhelmingly positive. In fact, it was so great that we decided to spin off Shadowplay as it's own club. That's going to happen on June 29. In the meantime, we'll be doing another Shadowplay party at Underground on May 31. Want to know what this night is all about? Check out my set list on Beatique.
"Set List: Shadowplay @ Underground"
Thanks for reading!