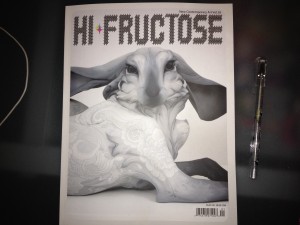 I've mentioned this before, but it's worth repeating. Hi-Fructose Volume 26 is on the streets now. For this issue, I wrote the following stories:
"Michael Mapes"
New York-based artist Michael Mapes creates intensely detailed specimen boxes, the likes of which you probably have never seen.
"Low Bros"
German brothers Low Bros talk about the evolution of their art, both on the streets and in the galleries.
"Caretakers: The Paintings of Vasilis Avramidis"
Based in Greece and the U.K., Vasilis Avramidis paints exquisite, and slightly untended, fictional landscapes.
None of these stories are available online. If you want to read them, you will have to pick up a print copy. Fortunately, if you're in L.A., Hi-Fructose isn't terribly difficult to find. Try whatever newsstands and bookstores are left in the city. Also, there are a few art galleries that carry the magazine as well. (I usually tweet out locations when I see copies on magazine stands.)
You can also order Hi-Fructose online through the magazine's website.