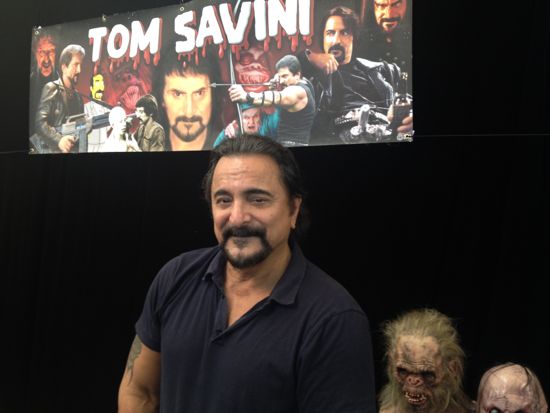 Last weekend was Son of Monsterpalooza, which is a horror convention that is filled with special effects artists and other people who make monsters and other creepy things. I was there on Saturday to cover for L.A. Weekly. Not too long after arriving, I noticed that Tom Savini was sitting at a booth near the front of the convention center. Immediately, I knew I had to get a quote from him. If my brother– who spent pretty much all of his teenage years talking about horror movies– found out that I was here, that I saw Tom Savini and didn't try to meet him, he would never let me live it down. So I went up to the booth and got quotes and a photo.
I spent four hours and change hitting up people for interviews and photos. One of the highlights was stopping by the Chiodo Bros. booth. They made Killer Klowns from Outer Space. I love that movie. In the end, I got two stories out of the experience.
"Son of Monsterpalooza, a Gathering of Monster-Makers in Burbank" (L.A. Weekly)
"10 Creepy Awesome Things We Saw at 'Son of Monsterpalooza'" (Topless Robot)

When I wasn't at Monsterpalooza last weekend, I was in Hollywood for EigaFest, a film festival dedicated to Japanese cinema. It was a great assignment to land. I spent much of a gruesome heatwave inside a chilly movie theater. On top of that, I got to check out some cool new movies, and some episodes of a couple really old anime series.
"8 Things We Learned at L.A.'s Anime-Centric EigaFest" (Topless Robot)
Back in August, I stopped by Pretty in Plastic. The San Fernando Valley-based company, founded by Julie B., makes a lot of things, but they're best known for doing 3D interpretations of work from artists like Luke Chueh and kozyndan.
"Julie B. Is an Artist for Artists" (L.A. Weekly)
Right after San Diego Comic-Con, Culver City gallery Century Guild held a show featuring the paintings of Doc Hammer, best known for his work on The Venture Bros. This wasn't my first trip to the gallery, but I was so impressed with it on this excursion that I had to write about it.  I returned the gallery not long after that and started asking questions.
"Century Guild Gallery Includes Everything From Clive Barker to Gustav Klimt" (L.A. Weekly)
Tim Heidecker and Eric Wareheim have a new show on Adult Swim and it's kind of scary. A few weeks before the premiere, I visited their studio and talked to them about Bedtime Stories.
"Tim & Eric's Bedtime Stories May Give You Nightmares" (Paste)
If you want more frequent updates on my work, check out Twitter or Facebook.