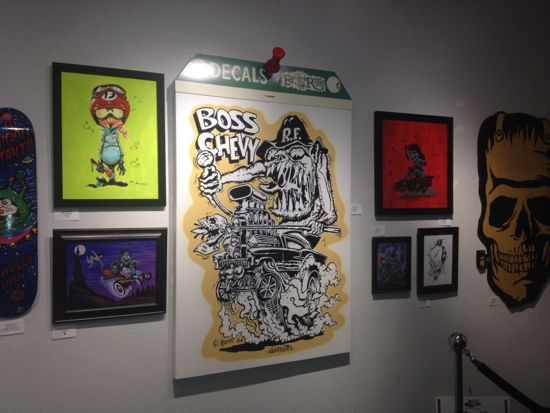 Last weekend, "Monsterfink!" opened at a nifty Burbank collectibles shop called Creature Features. The group art show, which featured more than 100 contributors, brought together monsters, hot rods and, of course, Rat Fink. It was about as Southern California as an art show can get and I wrote about the event for my L.A. Weekly column, Cult Stars.
Read: "In Burbank, an Art Show About Monsters and Hot Rods — and Rat Fink"
Speaking of monsters, I recently visited Chet Zar, kind of the monster painters, at his studio in the San Gabriel Valley. He's currently working on a show to open next month at Copro Gallery in Santa Monica, but you can see a little of what he's doing in the story I wrote for MySpace.
Read: "This is 'All Hallow's Eve': Artist Chet Zar Traverses From Tool to Fine Art"
Early in August, I had the chance to hang out with Alice Bag. She fronted The Bags, one of the original late-1970s L.A. punk bands. Since then, she's played with a lot of groups. Plus, she wrote a memoir, Violence Girl. Now, she's showing her paintings in galleries. A lot of her work focuses on documenting the history of women involved in the Los Angeles punk scene and it's fascinating. I wrote about Alice Bag for KCET Artbound.
Read: "Alice Bag's Portraits of the Los Angeles Punk Scene"
A few weeks ago, Black Jesus, the new show from Boondocks creator Aaron McGruder, premiered on Adult Swim and it's become quite popular. I talked to one of the show's starts, Kali Hawk, about her character and the controversy that hit the show before it launched for Paste.
Read: "Catching up With Black Jesus Actor Kali Hawk"  
Sunday night, Captured Aural Phantasy, who I previously profiled for L.A. Weekly, returns to El Cid with a new season of stage shows based on comic books and radio shows. I wrote a preview of this weekend's event for L.A. Weekly.
Read: "5 Far-Out Things to do in L.A. This Week for $10 or Less" (It's the third entry.)