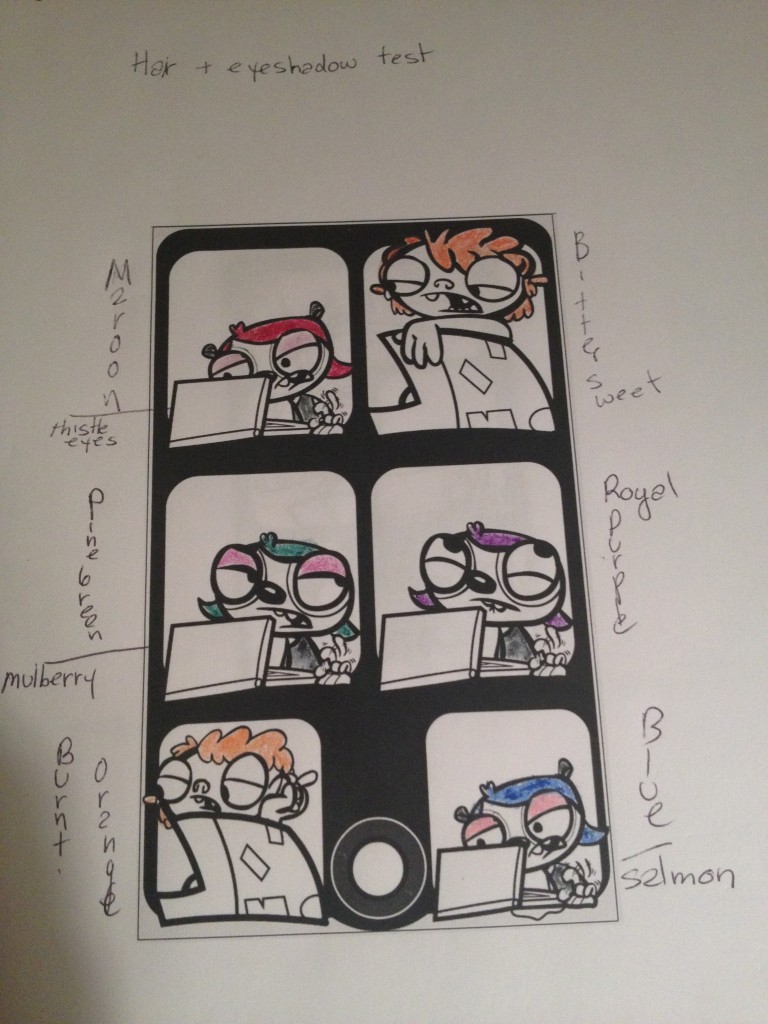 Jeaux has been saying that he wants me to work closely with him on coloring Los Animales. I'm not sure what he means by this, particularly since I have no visual art skills whatsoever. I think he just wants me to help make sure that we have some cool color combinations. Something like that.
Anyhow, I was at my mom's house on Saturday and found an old box of crayons that belonged to my brother. It's one of the big boxes, but it's also a Crayola collection with a lot of missing pieces. Still, I thought this might help us out. I text messaged Jeaux. He responded, telling me to print out some panels and "go to town trying out colors." I think I did that.
I picked this page so we can focus on Manda and Pedro, who work at Animal Sounds Records. We knew that Pedro would be a redhead, so I tried out some shades here. I like Bittersweet best. So does Jeaux.
With Manda, hair color is a little more complicated. Ideally, Manda and Dani will change their hair color often. We already know that, at least for Chapter 1, Dani's hair will be aquamarine. With Manda, we weren't sure what we wanted to do. We just knew that it should be something kind of dark and passably goth. For this test, I colored the outfit in black, even though she might not be wearing black in the comic, just so the hair and eyeshadow would be the focus.
I like the maroon hair a lot. I'm not quite keen on the thistle eyeshadow with the maroon hair, though. Also, I think that, thematically, it might work better if Manda has maroon hair in one of the later chapters.
The pine green hair and mulberry eyeshadow is my favorite. The hair was partially inspired by a friend of mine, who I thought look particularly fetching with green hair.
I really want Manda to have purple hair at some point, but I thought this shade made her look too much like Triana Orpheus from The Venture Bros. Blue was another strong option for Manda, but this is too similar to Dani's hair in the chapter. I think, eventually, I would like to try midnight blue for Manda.